New Ways to Learn ESL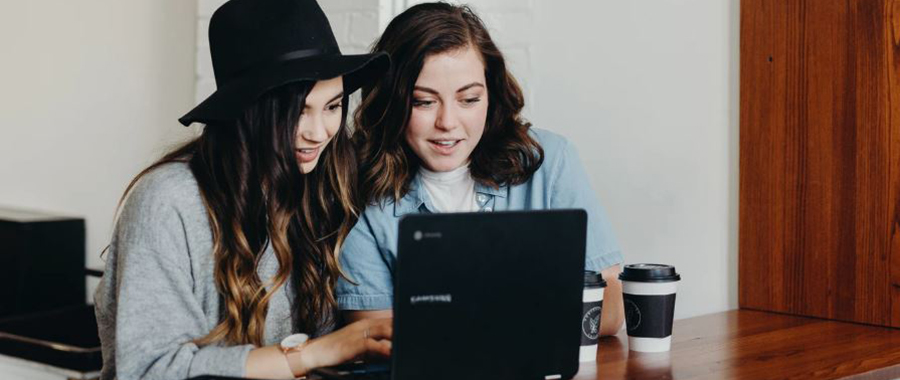 Learning a language is one of the most beneficial mental activities you can perform. Multiple studies have shown that learning a language can lead to more creative and mentally flexible thinking, and learning a language has been linked to better overall mental health.
When people think about how they're going to study English though, they probably picture stacks of books or sitting in a classroom. Nowadays, there are a lot more resources to learn and practice. Learning ESL can be easier and more fun than what people think. Here are some tips on new ways to learn English as a second language:
Watch YouTube videos
You can do a lot more on YouTube than watch videos of people and animals doing silly things. There are many YouTube channels dedicated to teaching English. These come from individual YouTubers, like Learn English with Misterduncan and JenniferESL, or large organizations, like BBC Learning English and VOA Learning English. These channels are a great way to supplement any other study method that you have. They also often have active online communities where you connect with other ESL students and teachers.
Additionally, there are thousands of lectures and talks on the TED.com YouTube channel. These are great ways to take notes on presentation skills, notice body language, and just get a positive message about an interesting topic. TED Talks or TED-Ed Talks are excellent resources for learning ESL. Some TED-Ed videos even have short lessons attached to the video.
Listen to podcasts
Podcasts have exploded in popularity in recent years, and it seems like there's one for any subject. There are so many podcasts that you can basically pick and choose them the same you would choose a TV show to watch. Here are a few recommendations to start off: This American Life, The Nerdist, Snap Judgment, Factually!—the list could go on and on. Just do an Internet search on your favorite topic and add "podcast" to your search to start getting some ideas.
Play tabletop games
Tabletop games, often called board games, are great for practicing many language-related skills. You can build up your reading and speaking skills by learning how to play a game through the rulebook and then teaching others how to play. What's more, there are tons of communicative games that get students to speak and interact with each other. Here are a few recommendations from LASC Rowland Heights teachers who sometimes use tabletop games in their classrooms: That's a Question!, Dixit, Codenames, Guess Who?.
Playing tabletop role-playing games, like Dungeons and Dragons, can engage ESL students with a different type of communicative and imaginative activity and give ESL students opportunities to communicate naturally. In these cooperative storytelling games, a group of players takes on the role of imagined characters while another player presents situations for them to act in. It's been popular in American and Europe since the 1970s, and it is rising in popularity again thanks in part to live broadcasts like Critical Role, which is played by professional voice actors, and the Netflix program Stranger Things, which famously opens with a group of boys taking on a Demogorgon in a game of D&D in a basement.
Play video games
Video games can be a good way to practice reading and listening as well. Tread with caution here however, since it's easy to forget about language practice with games that focus on action. If you're looking for a video game that can help you improve your English, go with games that emphasize storytelling and character dialogue. Life Is Strange, for example, is an episodic science-fiction adventure game in which players have conversations and select choices about what their character says and does. You could also try out a classic style role-playing game where stories and entire conversations are handled with onscreen text. Who said you have to learn English from textbooks?
Read young adult novels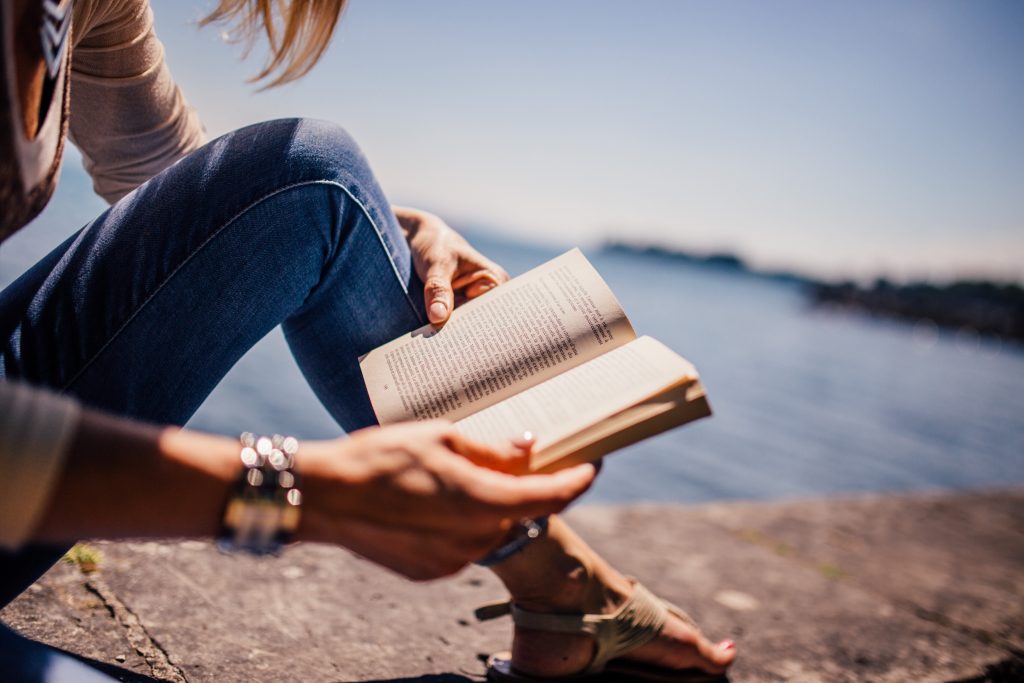 Children's novels are just for children, right? Wrong! Today, adults and children alike get excited about the next Wizarding World books or movies. Children's and young adult (YA) novels are an excellent way to practice sustained reading in a second language. With so many award-winning authors in this category, ESL learners have a lot of excellent options to choose from in all genres. A few great authors to start with are Tomi Adeyemi, Holly Black, Nancy Farmer, Neil Gaiman, R.J. Palacio, and Jason Reynolds. 
YA novels are a great option for all beginners and intermediate learners. Readers with stronger English skills may want to challenge themselves with more advanced reading (like adult novels, magazines, or newspapers).
Another great thing about practicing English by reading novels is that they can be free if you find them at your local library!
Get a magazine subscription
If you have a popular hobby or interest (like hiking, fishing, video games, exercise, etc.) then there are many magazines that you can check out to learn more about it and the community around it. For example, Outside is an excellent outdoors magazine with exciting articles about travel destinations, gear reviews, and more. If you're interested in politics and American society, sign up to receive your city newspaper. If you want to learn more about your city or regional area, there might be a magazine for that as well. The city of Los Angeles has Los Angeles Magazine, for example. 
Scroll through your newsfeed
You can also add English to your social media news feeds. In addition to major news websites, you can follow feeds related to your interests. A good inspirational quote once or twice a day can make for great, simple study material. Social media feeds are a good way to expose yourself in informal English, and you can even start participating in communities this way.
Sing
Why not learn the lyrics to a song that you like? The website Genius contains the lyrics to all your favorites. Some songs even have extra information about their creation or meaning. 
You can practice singing along to your top tunes with the lyrics in front of you to practice your timing and intonation. Take things further by memorizing the lyrics and singing along. It's a great way to improve your pronunciation.
Study time is quiet time? Not when you're learning a language!
Use an app
There are tons of language learning apps available for mobile devices. Some are even free! And while some apps may be better than others, you can't go wrong if you try out the most popular ones. These are a great way to spend idle time waiting for a table at a restaurant or for your rideshare to pick you up. 
Take a class at LASC!
LASC has been at the forefront of intensive English program providers for over 30 years. The curriculum across our ESL, English for Academic Purposes (EAP), Business English, TOEFL, and IELTS programs are developed to give students of all levels the opportunity to learn English well. Our specialized teachers have the international experience and passion for teaching to motivate students with well-crafted lessons.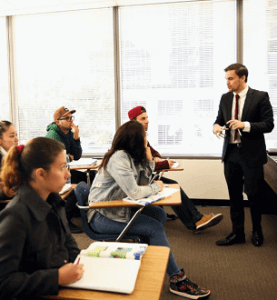 Our Cambridge-based curriculum focuses on the acquisition of the most commonly used English words, expressions, and grammatical structures. Our curriculum is heavily e-based and integrates online workbooks, score tracking, and mobile apps to provide the extra support needed to study English. LASC is also one of the first ESL schools to introduce virtual reality instruction within its curriculum, which gives students a real-life experience that goes beyond the four walls of our classrooms. 
Students can take classes that target the four main language skills of reading, writing, listening, and speaking. The ESL program offers students the chance to take classes targeting pronunciation, grammar, and idioms, all of which can help improve their communication skills outside of the classroom. Our ESL program also provides a foundation for students who are looking to develop their professional English skills, TOEFL test-taking skills, and academic English skills.
It's up to you!
Every ESL learner is going to have to practice with authentic and natural English if they want to build up fluency. However, that doesn't mean that you have to stick with what you read in textbooks.
English is a living, breathing language that is used by over 2 billion speakers all over the world, and you can find it everywhere (on podcasts, in games, in music, in children's books, in your social media feed, everywhere!). 
Rather than waiting until you feel "ready" to learn English through immersing yourself in these materials, dig right in! The best learners are the ones who study by trying over and over to communicate by trial and error. If you make a mistake, it's no big deal! You will learn faster when you notice what you got wrong.
The forward-thinking attitude at LASC is what makes us go far beyond other English language programs. We don't want our students to just learn English, we want them to experience it. By introducing the latest technology and methodologies into our curriculum, we flip our classrooms so that students are the ones in control of their own English learning. We believe that by providing authentic interactions with English, students will be better English learners. 
Call an admissions manager or connect online right away to learn how our ESL courses will help you get the results you want.